Person and payload lifting in one package
In the fall of 2017 we at Janneniska received and interesting project, when they called from Turku Pohjola Sairaala's worksite and asked for help in finishing the windows' storm baseboards located on the rooftop ridge. The customer had problems as they could not reach the objects with large aerial platforms.
Additional tension was created by the concrete cover (from where they had better reach to the object and target) which had a capacity of 4000 kg, which restricted the possibilities even further.
After surveying the worksite and its properties, the consensus was that the best tool for the job would be a Janneniska aerial platform which could be operated with a B-class license, JN29. This compact aerial platform has a working height of 29 meters and the total weight is 3490 kg, rendering it perfect for the task. As a whole, the Pohjola Sairaala site lifting requirements were exceptional as they required both payload and personnel lifting capabilities in one package.
From planning of lifting work to execution with mobile crane
Despite the exceptional nature of the project, Janneniska's experts had experience from previous similar projects. This made it possible to apply and combine previous experience of complex worksite planning and this way better predict the future.
When the initial preparations for the cover's capacity were properly implemented in the safety plan and everything was walked through, Janneniska set out to execute. When the aerial lift and necessary equipment was transported to the site, out expert thoroughly walked through the steps of the lifting task with the customer. With the mobile crane, Janneniska's lighter truck-mounted aerial platform was lifted from street level to the concrete cover.
After this the aerial platform was navigated to the right location, avoiding equipment and other obstacles. The van-mounted JN29 aerial platform had no issues here.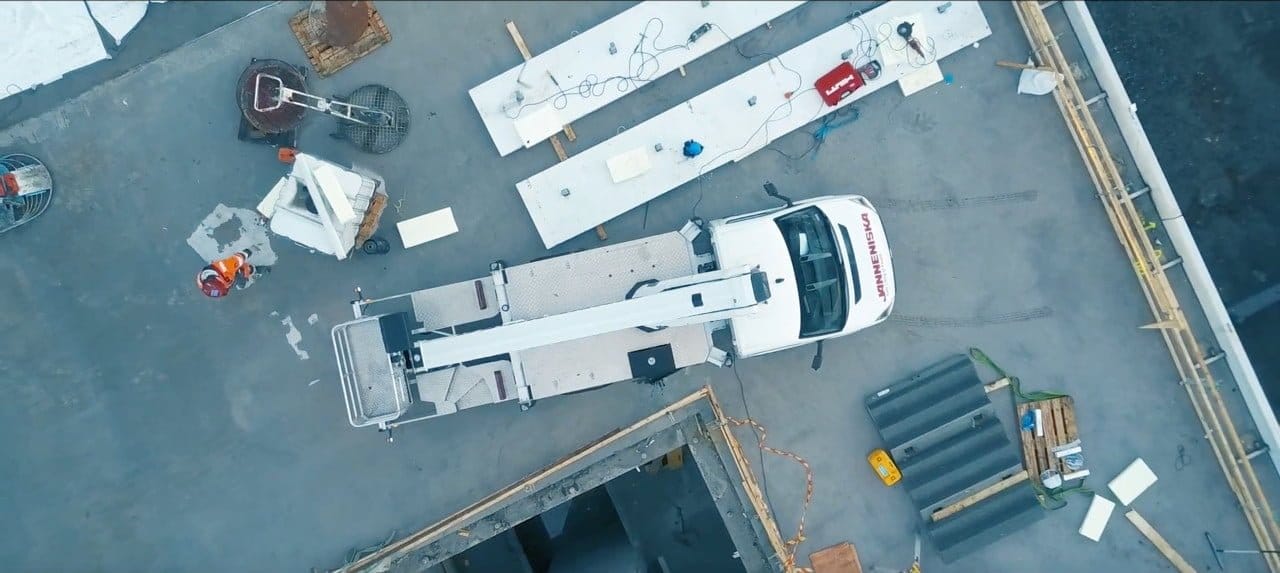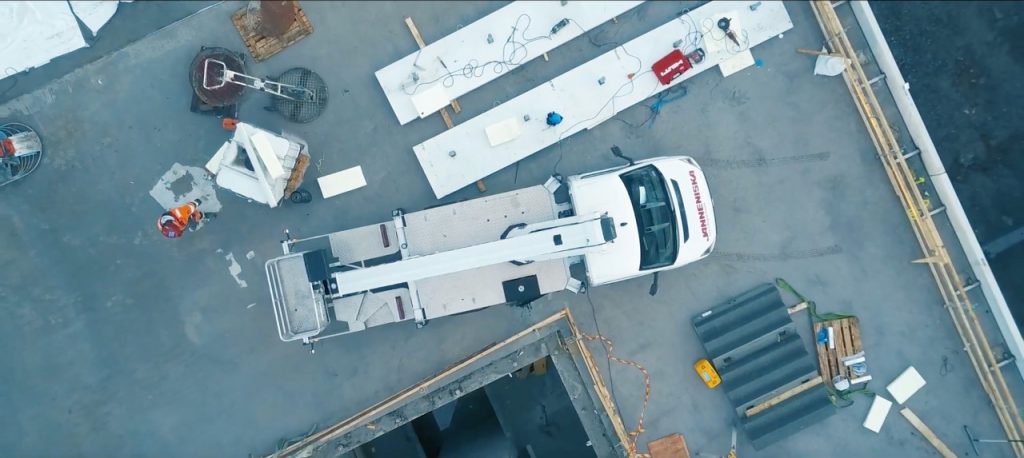 In the finalization process Janneniska's expert properly educated the operators in the unit's properties, as well as in the correct and safe ways to operate it. Together with the customer, we walked through the steps of the lift and what should be taken into account, in order for the people lifting project and the installation tasks to progress safely and efficiently without interruptions and within schedule.
Satisfied customer and excellent service experience as an end result
The result in this case was a very satisfied customer, who was very impressed with the level of service they received. Janneniska was thanked for developing a functioning solution despite several challenges and the harsh properties of the worksite.
Janneniska's experts solved the customer's problem in a cost efficient way, as the project which was esitmated to require three workdays was completed in a single day, much faster than planned.
The customer was also satisfied with the unit and the positives features of it, which led to the fact that Janneniska's JN29 stayed on the worksite to assist in other facade work as well.
Check out the video below to see how the lifting task progressed at Turku Pohjola Sairaala:
Also download our free guide to planning lifting work to support your own worksite: