JN24 – UP and OVER truck-mounted aerial platform, now with just a B-class license!
JN24 gives you a new kind of reach in the B-class truck-mounted aerial platforms. The unit's boom system enables "Up and Over" working modes, and also gives you the option to work several meters below the wheelbase. JN24's working height is 24 meters, with a lateral outreach of 12,5 meters. The max lifting capacity is 220 kg.
The basket's side attachments enables you to place the platform bottom as close to the work object as possible. The basket has a 230V electrical outlet, and the inlet is located low in the chassis.
The low transport height of 2.3 meters enables driving into cramped worksites, e.g. inner yards, tunnels, etc.
JN24 features among others automatic levelling, automatic boom retraction, three jacking options: narrow, wide and one-sided.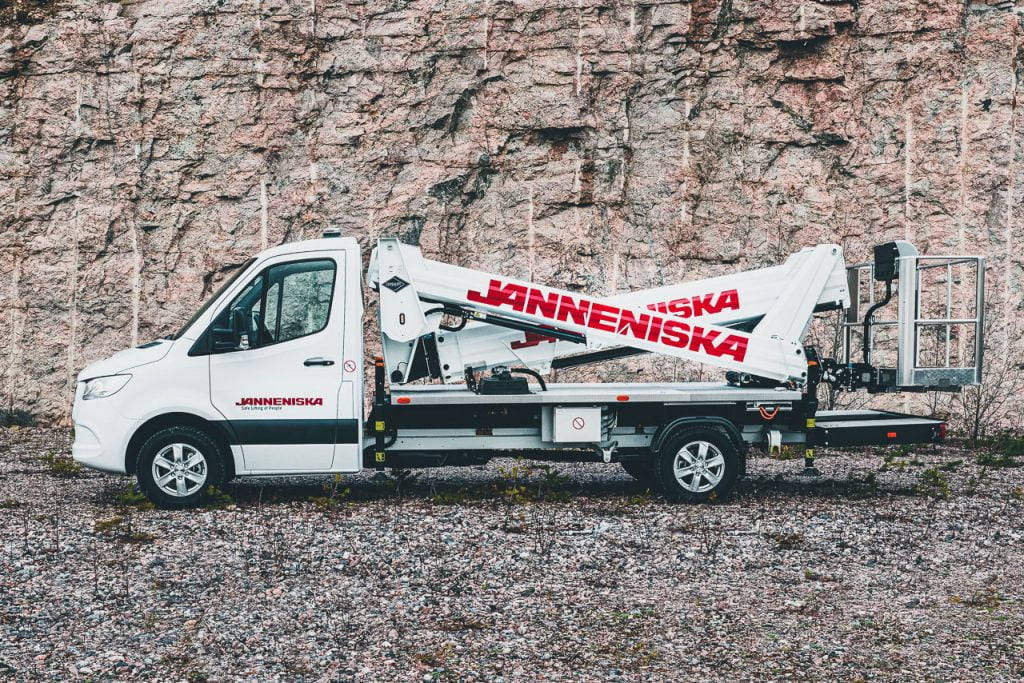 Working height 24.2 m
Platform height 22.2 m
Max lateral outreach 12.5 / 8.2 m
Lifting capacity 80 / 220 kg
Boom rotation (+/-) 210°
Transport height 2.3 m
Transport length 7.52 m
Transport width 2.1 m
Support width normal/single/narrow 2.2 – 3.5 m
Max outrigger force 20 kN
Basket size 1.4 x 0.7 m
Total weight 3 500 kg
Required driver's license B
Power source (lift) Euro 6-diesel